History Of The Holden Company
Date Posted:15 December 2017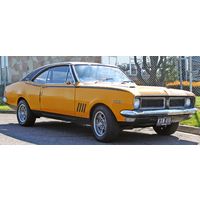 On 20 October 2017, the Holden Company, a well-known Australian automotive manufacturer, officially shut down its plant in Elizabeth, South Africa. This came as a heavy blow to the automotive industry in Australia, which had considered Holden to be the forefront of car manufacturing. Australian Prime Minister Malcolm Turnbull even stated that Holden's closure was "the end of an era," saying "the end of Holden making cars in Australia is a very sad day for the workers and for every Australian."

The truth to this is that Holden has indeed been an integral part of the automotive community, as well as the history of Australia itself. Since its humble beginnings as a saddle manufacturer in the mid-1850s, Holden has earned its reputation as a powerhouse in Australian manufacturing.

The story starts in 1852 with James Alexander Holden, a young English businessman who moved to Adelaide in South Australia. Four years later he founded a saddling company named "J.A. Holden & Co," and by 1885, 33 years later, German saddler H.A. Frost joined the business. After the automobile was invented at the turn of the century, James' grandson Edward joined the business and redirected its focus to fit the rising trend of cars.

For the next several years, Holden's company directed its efforts to various vehicle repairs and upholsteries, particularly on motorcycles. In 1913, however, they began to experiment with adding different bodies onto different carriages, and they first entered the automotive world.

When World War I broke out, trade restrictions meant car bodies had to be manufactured in Australia, instead of being imported. Seizing the opportunity, Holden founded "Holden's Motor Body Builders, Ltd" (HMBB) in 1919. After the war, HMBB grew as veterans came home looking for jobs; by 1923, they were manufacturing 12,000 total units per year. As it turned out, Holden's experimenting paid off, as his car bodies were notably made to fit multiple chassis for different car manufacturers at the time.

By 1924, HMBB was the first company in Australia to assemble car bodies for Ford Motors, and the exclusive manufacturer and supplier of General Motors, an auto parts manufacturing company in America, in Australia as well. The General Motors manufacturing took place at a separate factory in Woodville. In 1926, General Motors opened subsidiaries in Australia and New Zealand, using car bodies built by HMBB over imported chassis.

Meanwhile, Holden's Woodville branch expanded the companies it built cars for, to include several British and American companies in addition to General Motors cars. However, the Great Depression spread worldwide, and by 1931, HMBB had gone from producing 34,000 units annually to around 1,600. That same year, General Motors bought HMBB and merged it with its subsidiary in Australia to make General Motors-Holden's Ltd.

In the mid- to late 1930s, Holden began to expand its number of factories, building its second full-scale auto-making factory in 1936 and the third in 1939. However, World War II broke out the same year, which again halted the automotive industry in favor of wartime manufacturing efforts. Because of this, both Ford and General Motors worked with the Australian Government to ensure Australia would have its own automotive industry after the war.

Both companies submitted designs, and General Motors' was chosen due to its low cost (and thus lower need of government intervention). Because of Holden's partnership with General Motors and foothold in the Australian automotive industry, this meant it was therefore also have a say in the first Australian-designed car. After a lengthy debate between General Motors' and Holden's directors over its influences – General Motors wanted an American influence, Holden wanted an original design – and in the end, the design they chose was based on a rejected proposal for a Chevrolet.

Named after the grandson of the company's founder, the Holden 48-215 – nicknamed "Holden" -- rolled onto the world stage, and became a much-anticipated commodity on the Australian auto market throughout the 1950s. General Motors invested strongly in high manufacturing numbers, which made them much more accessible to the public. "Holden" also had another thing going for it – it was able to traverse more uneven country roads better than other cars at the time, so it was able to reach out to rural communities as well. Because of this, "Holden" was also manufactured as a coupe utility for farmers and workers.

In 1953, Holden released the Holden FJ series, their second all-Australian model. It drew heavily on the 48-215 design, and changed little, but maintained steady popularity through the 1950s. The FE and FC models followed in 1956 and 1958, respectively, and each featured minor upgrades. Meanwhile, Holden expanding its exports around Oceania, Asia, and Africa.

Holden's third major new model, the Holden FB, was introduced in 1960. It was reminiscent of vintage 1950s Chevrolet cars, indicated by its streamlined design, tailfins, and wrap-around windshield. It was also manufactured for left-hand-driving markets – the first Holden car to do so – and preceded several other Holden series, each making more advancements to compete in the market.

In 1968, Holden's association with Chevrolet ended, and more international cars entered the Australian auto market. As a result, Holden models around this time began to reflect these models. Despite this, Holden's locally-produced cars remained at the top of the market in Australia, and Holden launched its HQ series in 1971. The HQ series featured a complete re-haul in its design, and became its best-selling Holden, until the Commodore surpassed it in 1978.

In 1981, Holden's Pagewood plant closed, striking a hard blow to the company. At the same time, the Australian Government introduced the Button car plan, which emphasized fewer, more high-quality models. This meant Holden merged with Toyota to create three models, none of which proved popular. Meanwhile, the Ford Falcon briefly became the best-selling car in Australia, until Holden manufactured three new models of the Commodore and reclaimed first place. By the end of the 1980s, Holden had reclaimed its title as Australia's leading automotive manufacturer.

In the 1990s, the auto market spiked, and Holden balanced this by increasing its market seven percent, and continued to export locally-made engines as well as cars around the world. The Commodore received several alterations and facelifts throughout the 1980s and 1990s, and released the Commodore VT in 1997. This was Holden's biggest development to date, and it marked the Commodore's expansion on a global scale, instead of merely a local one.

However, what goes up must come down, and Holden was no exception. Its market surge in the 1990s came crashing down in the early 2000s, and it lost its first-place auto sales position in Australia to Toyota. Throughout the next few years, its market share dropped, as did its employment levels. The global financial hit Holden in 2008, leading to more job losses and factory closings, and fewer exports.

Following a failed series of financial attempts to boost Holden's sales again, the company announced in 2013 that it would officially cease all engine and vehicle manufacturing in Australia by 2017. This would mean not only the end of Holden's reign in the local Australian automotive community, but also the loss of almost 3,000 jobs. The company still remains as a national sales company and parts distributor, as well as a testament to what hard work, innovation, and perseverance can accomplish in the automotive community.
---
Leave a comment